The elegant Barbara Peckinpaugh taken by US photographer Edmund Leja in 1980 from a set of original contact sheets. Barbara only worked as a model for a short period of time from 1980 until 1986 under various names and seems to have mostly done glamour or softcore work apart from two hardcore movies. Sadly no longer with us, as It's reported that after her short career in modelling she committed suicide. In nearly all her photo's she's blonde, but this shot was at the beginning of her short career, so obviously her natural colour.
Edmund
Leja
(1919-2002) was based in West Hollywood at the heart of the early Southern California nude photography industry. He was also friends with Andre de Dienes and both shared several model contacts including Diane Webber, Collette Berne (Playboy cover model, July 1960), as well as Sue Snow and Tammy Saunders.
Leja
discovered and photographed three Playmates for Playboy magazine Teddi Smith, Miss July 1960, Donna Michelle, Miss December 1963 (and 1964's Playmate of the Year), and Lori Winston, Miss June 1964.
Edmund
Leja
photographed over 200 models between the 1940s and the early 1980s and until I came across these shots of Barbara I assumed he only shot glamour shots similar to those published in Playboy. Apparently not as there are several shots of Barbara showing off a lot more (as members can see), but at least the collars and cuffs match showing she was a natural brunette 🙂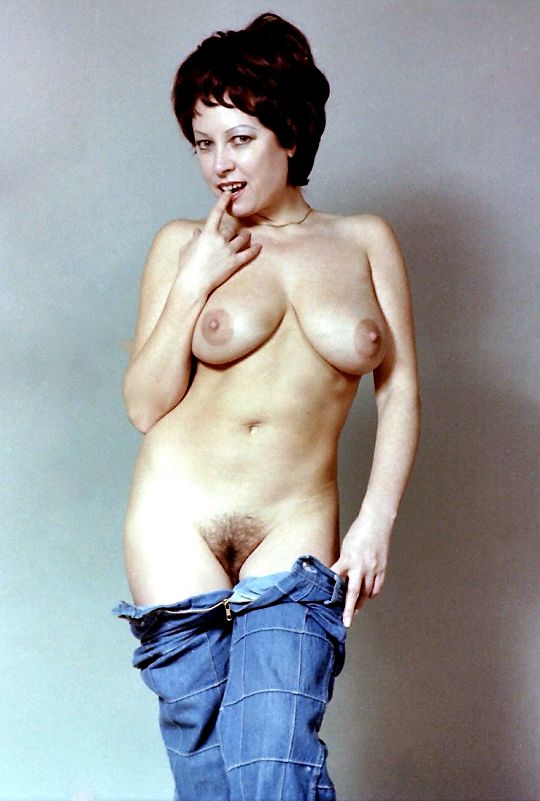 Yesterday I posted these images of June that I found via Tumblr posted by user Itsgardin, wondering if they were originals and taken by him. Well Itsgardin has contacted me and yes they were taken by him along with the one above, that was taken at Strobe Studios in 1980. What a great teasing shot of June as she drops her jeans!
Apparently Itsgardin has been a big fan of June Palmer for many years and is also a fan of this site and took photographs of June over a period of 12 years from 1975 until 1987 when she retired even for her most ardent fans. He has about 6500 photographs (wow!) of her over this period and has only just started publishing them.
A big thank you to Itsgardin for sharing these unseen images of June during that period and also allowing me to publish them on this site and I can't wait to see more of those 6500 shots of June 🙂
June appearing in the pages of Gem Magazine (October 1980) under the dubious heading on the cover – A Trip Down Mammary Lane with June Palmer Great Pinup Queen of the 60's!  The cover and centrefold of the same magazine featured Mary Waters and her huge Boobs, both of which (including those huge tits!) can be seen here.